New edition yay
I would like to introduce MOLLY WOG...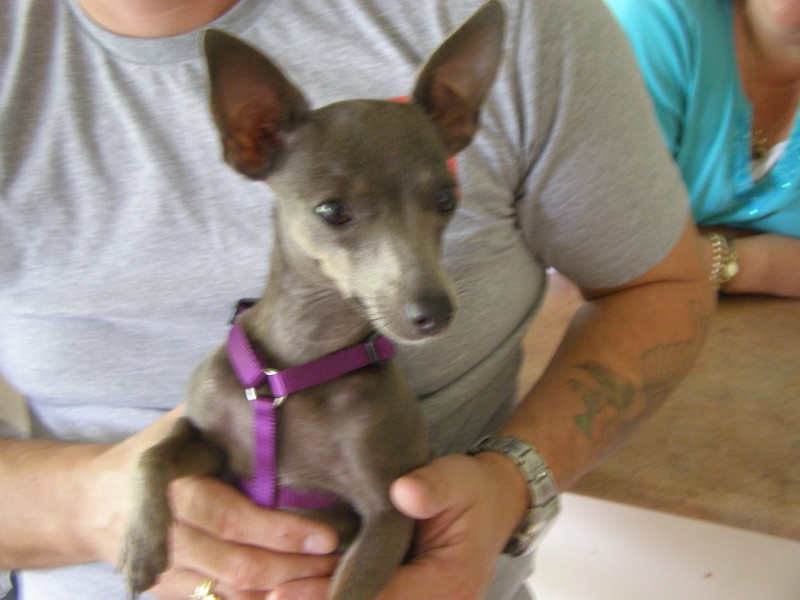 Ok so now i have more dogs but here is the dealeo. While out we saw a petstore/produce and went to have a look for chicken wire as you do

.
In a cage with no food or water was Molly wog the staff had no idea what to do with her and didn't really care we got her $150 she was terrified of the man there poor baby.
Once we got her home we did some reaserch and have found out she is a Blue and tan minni pinchser(sp*) worth a small fortune if she is pure bred show how much they new hey..
We got her scanned for a miro chip as if she was pure it was weird she was given to us at such a small cost but she didn't have one soo she is ours and will be desexed soon

she has a great nature into everything and loves to play she is about a 1yr old.
So welcome to the family molly wog.
we also had and idea that she might be a chi X foxie but the vet said she looked more like a pincher(sp*).

Beth<3

Chataholic





Number of posts

: 886



looks like a chi to me!
but all the little breeds seem to look like either chis or foxies anyways!


she is gorgous and i hope you enjoy her plz up date us on her and how she fits etc!
good luck tand thanks for letting us no about your new gorgous girl
_________________

Admin

Admin





Number of posts

: 1292



Well update.......
She is great settled in really fast.
She has a lot of character for a little dog she seems to think she is a rotti or something and is a little crazy on the walks, but is slowly getting better seeing as all the other dogs are calm.
She has a small rash on her neck area but the vet said to treat it with Malaseb and it is getting better.
Cannot belive we have another little girl but we are already soo atteached to her.
All the dogs get along well now, we did have a few problems with her and zena, as Molly-wog is very tiny 2kg and zena is 25kg and like to play rough. We have to surpervise out door time with them now.

Well that is it she is great and we love her. tehe


Beth<3

Chataholic





Number of posts

: 886



why do pet shops do that???
im glad she found a nice place to live.. poor little thing

sharreem

Chataholic





Number of posts

: 1215



I no i do try my best not to go into them as i am often roped in with the sick and miss treated pets but sadley there isn't many places here in oz that dont sell animals so it is kind of hard.


We are glad we got her as well anybody could have gotten the poor little girl.

Beth<3

Chataholic





Number of posts

: 886



oh she is gorgoues,u r such a nice person to take her on wen u hav so many nice pets alredy,good on ya,pets r great fun hey?


bubblesbaby




Number of posts

: 168



Yeh i love them we thought that we would take her and then try to find her a good home "the right way" but we got to attached.

We kinda just say what the heck we have the money and the space so why not give another pet a good home.


Beth<3

Chataholic





Number of posts

: 886



Mini Pins are great little dogs good on you for taking her in. May she bring you years of happiness.
_________________

Mali

Admin





Number of posts

: 3782




---
Permissions in this forum:
You
cannot
reply to topics in this forum